One Country Project's mission is to ensure rural Americans' priorities and values are heard, understood, and well-represented in Washington. The One Country Project's Rural Playbook provides a guide to the issues impacting rural voters and how Democrats can best connect with them on the key issues of the economy, inflation, abortion, immigration, crime, and others in lead up to Election Day 2022.
---

At the start of 2022, the midterm election outlook was dim for Democrats, especially among voters in rural America. A Morning Consult poll found a significant majority of rural voters held unfavorable opinions of the Democratic Party ahead of the midterm elections with 65% of rural voters viewing the Democratic Party negatively. The governor's races in Virginia and New Jersey in 2021 saw the Democratic vote in rural areas plummet, costing Democrats one seat and narrowly holding on to the other in an unexpectedly close election. Historical trends and early 2022 polling indicated that Democrats were in for some big losses in the 2022 midterms.
Primary enthusiasm seemed to confirm that Democrats were facing serious political headwinds. Over the course of primary season, the One Country Project examined rural voter turnout in six key states: Georgia, Pennsylvania, Ohio, North Carolina, North Dakota, and Nevada. We first looked at rural turnout in the last midterm election six years ago in 2018, and then compared those numbers to rural turnout this year in 2022. We did this for both Democrats and Republicans. From there, we found the net gain each party had made in each state. Here are some of the key takeaways we found:
Democratic rural turnout is low. In Georgia and Pennsylvania, Democrats have increased turnout in rural areas since 2018. However, we've fallen behind in Ohio, North Dakota, and Nevada by as much as 48 percent since 2018.
Republican turnout has increased in rural areas. In Georgia, Pennsylvania, North Carolina, North Dakota, and Nevada, Republicans increased their rural primary turnout by as much as 92 percent since the last midterm cycle in 2018.
Even where we've made gains – Democrats are still lagging behind. Despite the Democratic gains made in Georgia and Pennsylvania, Republicans have nearly doubled their rural turnout in those states.
In every state we examined, Republicans increased turnout. The range of these increases varied, but across the board Republicans gained.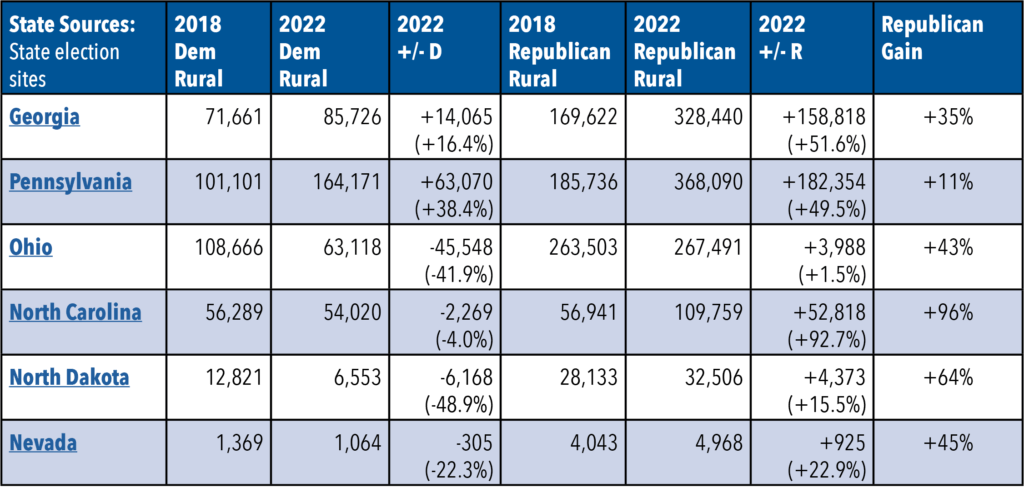 The Democrats in Congress and the Biden Administration have recently secured legislative wins that helped to shift this dismal outlook. In addition, people have started to see that the policies Democrats in Congress and the Biden Administration put in place in response to the COVID-19 pandemic— the American Rescue Plan and Bipartisan Infrastructure Law—are having a positive impact on the U.S. economy. When President Biden took office, over 18 million Americans were receiving unemployment benefits, now the unemployment rate has dropped to 3.7%. Our economy has recovered all jobs lost during the pandemic and even begun to add jobs. These facts illustrate that the Democrat's economic policies are doing what they were intended to do—rebuild and strengthen our economy.
For Democrats to continue making progress, they need to win elections and "win the wins" they have secured. If they do not, Republicans seem happy to. Every Republican in Congress voted against the American Rescue Plan that has enabled our country's economic return, yet Republicans have been touting elements of the bill they voted
against
to their constituents and campaigns. Same goes for the infrastructure projects many Republicans voted against.
CNN's 'The Lead with Jake Tapper'
 found at least 14 congressional Republicans who voted against the infrastructure bill have tried to take credit for projects made possible by it. Democrats must call out Republican hypocrisy when they see it. Democrats have been the ones delivering and they to take credit for it if they want to win on election day.
To win with rural voters, Democrats need to be proactive and go into rural communities to have in-person conversations with rural residents not only about what legislation they have passed in Washington, but how it impacts their community today and in the future.
As constituents are grappling with inflation, explain how the Inflation Reduction Act will help to lower healthcare costs. The bill caps seniors' out of pocket spending for prescription drugs at $2,000 per year and will help Americans covered under the Affordable Care Act save on their health insurance premiums. Because seniors disproportionately choose to live in rural America, rural Americans stand to disproportionately benefit from the Inflation Reduction Act as it lowers prescription drug costs for seniors on Medicare. This is in in stark contrast to the Republican agenda that allows corporate greed to supersede the well-being of everyday Americans and aims to put Social Security and Medicare on the chopping block.
Biden promised to reach across the aisle to work with Congressional Republicans and make progress, and he has, as is evidenced by the passage of Bipartisan Infrastructure Law, bipartisan support for aid for Ukraine and the passage of the Bipartisan Safer Communities Act—the most comprehensive piece of gun reform legislation to pass Congress in almost 30 years.
With the passage of the PACT Act, Democrats and the Biden Administration demonstrated that they would follow through on expanding disability and health benefits to veterans and on commitment to advance the Unity Agenda he put forth for the nation during this year's State of the Union address.

Many women across the country are reeling in the aftermath of the

Supreme Court's decision in Dobbs v. Jackson Women's Health Organization that reversed Roe v. Wade decision and stripped women of a right they had known for nearly 50 years—the right to choose.

Democrats

are committed to restoring the protections of Roe v. Wade and want to move women's rights forward by supporting and

elevating policies that address equal pay and paid family leave.

Whereas, Republicans in Congress have

introduced a national abortion ban. This ban would bar women from making their own health care choices in every state in the nation and is just another example of Republican's undermining

women's rights, opportunities, and health. Emphasize how this is especially concerning for the 18 million women

of reproductive age living in rural areas, where maternity care is disappearing, and pregnancy and childbirth are becoming more complicated — and more dangerous.
Although Red Wave concerns may have quelled a bit over the past few months, Democrats still have to fight to capitalize on the political momentum that has been gained over the summer and convert it into political wins.
---